Aggressive Representation for Rhode Island Clients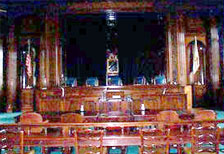 With combined experience of over 50 years, the attorneys at the Law Offices of Mark L. Smith can efficiently and effectively help you through the often complicated and intimidating legal issues you may be facing. We have offices in Providence and North Smithfield to conveniently serve clients throughout Rhode Island.
Our lawyers dedicate themselves to protecting your interests. Our experience gives us a comprehensive understanding of the law and allows us to ensure that all your rights and interests are being considered at each step. We are committed to reaching a favorable outcome to your case and will not hesitate to take your case to court if we believe a better result is available.
The Help You Need for Your Legal Issue
Personal Injury: If you have been injured due to the negligence of another person or company, you may be entitled to compensation for your injuries. No matter how minor your injury or who you feel was at fault, discuss your case with an attorney. We help clients in car accidents, slip and falls, boating accidents, brain injuries, spinal injuries, permanent bodily injuries, facial scaring and other cases.
Criminal Defense: No matter what type of crime you are being accused of or how minor the incident might seem, make sure your rights are protected by hiring an experienced attorney. Our firm represents clients in a wide variety of cases including fraud, white collar defense, assault, murder, rape, robbery, DUI/DWI, weapons charges, drug charges and others.
Elder Law and Probate Law: We can help to ensure that everything is in place and that your loved one's wishes are respected in the later years of their lives and after they pass. We help clients with wills, trusts, nursing home planning, estate planning, estate administration, probate and other issues.
Contact Us for a Free Consultation
Contact our office today to discuss your legal issues. We are available during regular business hours and by appointment evenings and weekends. We have the experience and commitment to ensure that your rights and interests are protected throughout the process.
Se hablamos Espanol!
---
Providence Office:
127 Dorrance, 2nd Floor
Providence, RI 02903
Phone: 401-272-1432
Next to Garrahy Judicial Complex
North Smithfield Office:
191 Social Street
Suite 470
Woonsocket, RI 02895
Phone: 401-769-4120
Cornerstone On Highway 146A
Next to Police Station